SANTINI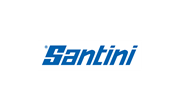 Since 1965 Santini has graced winners both past and present, in prestigious races around the globe making it one of the most recognised cycle clothing brands in the world. Products are 100% handmade and designed in Bergamo, Italy. Santini's mission remains to help everyone who loves cycling and triathlon to participate in comfort and style, using the highest performance technologies for a zero distraction experience. Official Partner to the UCI - on the shoulders of all world champions in all cycling disciplines. UCI Road Events - Unique collection of Official merchandise from Rainbow jersey, Fashion lines, Casual clothing and Replica of Peter Sagans World beating Skin suit.
Official Sponsor to the Giro d'italia. Arguably the worlds toughest Grand Tour. In addition to the four leader jerseys, the Bergamo firm also created an additional 2016 Giro d'Italia capsule collection celebrating the race's most illustrious stages.
Fit - we strive to create garments that fit like a 'second skin', it is what we are best known for.
Performance - our aim is to make sure that every Santini product provides you with maximum performance in saddle.
Comfort - Each garment is in engineered to provide maximum comfort in the saddle, from the materials selected to the strategic placement of each seam.
Durability - Santini Cycling Wear is Made in Italy by our highly skilled production staff with the highest quality locally sourced materials.
There are currently no products from SANTINI in our site.
Please
Contact Us
for details of this range of products.
Unfortunately we don't have details for the SANTINI website, but if you
Contact Us
here at the shop, we'll gladly give you details of any products you're trying to find.